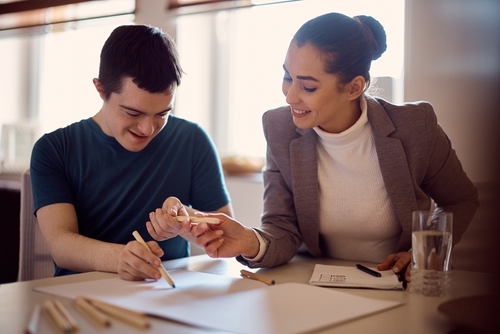 N-648 is a form used in the United States immigration process that allows individuals with developmental disabilities to request an exception from certain naturalization requirements. A developmental disability refers to a chronic condition that starts before adulthood and significantly impacts a person's cognitive, physical, or behavioral abilities.
The N-648 form is a crucial tool for those with developmental disabilities who may face challenges in meeting the English language, civics, or physical presence requirements for naturalization.
Can a disabled person get US citizenship?
When completing the N-648 form, an immigration psychologist may play a vital role in evaluating the applicant's condition. They can provide an expert opinion on the developmental disability, its severity, and its impact on the person's ability to meet the naturalization requirements. Their evaluation helps immigration officials make informed decisions and ensures fair treatment for individuals facing unique challenges.
What are the conditions for N648?
There are many conditions that can qualify for the citizenship examination waiver N-648.  The immigration psychologist will diagnose the disability, and describe the symptoms and impairments associated with this condition.  The citizenship waiver and be based on physical disability, developmental disability, or mental disability.
How can I contact an immigration psychologist?
Immigration Psychology is a private practice formed by Doctors in Psychology who specialize in forensic and clinical psychology.  Our forensic and clinical psychologists have testified as expert witnesses in hundreds of civil, criminal, and immigration cases in several states.
For more than 15 years, Immigration Psychology has offered forensic psychological evaluations for Hardship Waivers, VAWA, Asylum, U Visa, T Visa, and Citizenship examination waivers.
Our immigration psychologists are bilingual and licensed in the United States and can practice in 36 states:
Alabama – AL             Kentucky – KY           Oklahoma – OK
Arizona – AZ              Maine – ME                Pennsylvania – PA
Arkansas – AR            Maryland – MD           Tennessee – TN
Colorado – CO            Michigan – MI            Texas – TX
Connecticut – CT        Minnesota – MN         Virginia – VA
Utah – UT                    Mississippi – MS        Nebraska – NE
Delaware – DE            Missouri – MO             Washington – WA
District of Columbia – DC                               West Virginia – WV
Florida – FL                Nevada – NV                Wisconsin – WI
Georgia – GA              New Hampshire – NH  Wyoming – WY
Idaho – ID                   New Jersey – NJ
Illinois – IL                  North Carolina – NC
Indiana – IN                Ohio – OH
How do immigration psychologists and immigration attorneys work together?
A psychological evaluation is done at the recommendation of the immigration attorney.
Immigration psychologists and Immigration Attorneys have a working relationship that must protect the independence of opinion and the objectivity of each professional.  Immigration psychologists must understand rules of admissibility to determine whether the testing and procedures used are valid and reliable enough to stand the scrutiny of the court and other experts.  Immigration psychologists must understand how to provide testimony as required by the case.
Contact us at:
Info@ImmigrationPsychology.com
877-297-5952
305-456-4147
407-690-7129