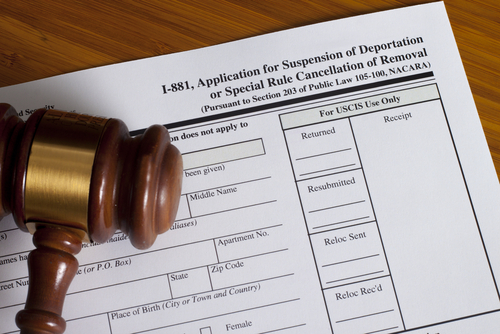 Cancellation of removal is a form of relief from deportation that allows certain individuals facing removal proceedings to obtain lawful permanent residency in the United States. It requires meeting specific eligibility criteria, such as having resided in the U.S. for a designated period, demonstrating good moral character, and proving that removal would result in exceptional and extremely unusual hardship to a qualifying U.S. citizen or permanent resident.
What is the role of immigration psychologists in cancellation of removal cases?
In cancellation of removal cases, immigration psychologists can assess and document the psychological impact and hardship that would be experienced by the qualifying relative if the applicant were to be removed or if the entire family moved abroad.
Immigration psychologist conduct comprehensive psychological evaluations, provide expert opinions, and testify.  Their expertise helps to demonstrate the emotional and psychological consequences of separation or relocation.
Ultimately, it is the court or immigration who decides if the hardship threshold has been met.
Not all cases require a psychological evaluation, and it is the immigration attorney who recommends the use of an immigration psychological evaluation.
How can I contact an immigration psychologist?
Immigration Psychology is a private practice formed by Doctors in Psychology who specialize in forensic and clinical psychology.  Our forensic and clinical psychologists have testified as expert witnesses in hundreds of civil, criminal, and immigration cases in several states.
For more than 15 years, Immigration Psychology has offered forensic psychological evaluations for Hardship Waivers, VAWA, Asylum, U Visa, T Visa, and Citizenship examination waivers.
Our immigration psychologists are bilingual and licensed in the United States and can practice in 36 states:
Alabama – AL             Kentucky – KY           Oklahoma – OK
Arizona – AZ              Maine – ME                Pennsylvania – PA
Arkansas – AR            Maryland – MD           Tennessee – TN
Colorado – CO            Michigan – MI            Texas – TX
Connecticut – CT        Minnesota – MN         Virginia – VA
Utah – UT                    Mississippi – MS        Nebraska – NE
Delaware – DE            Missouri – MO             Washington – WA
District of Columbia – DC                               West Virginia – WV
Florida – FL                Nevada – NV                Wisconsin – WI
Georgia – GA              New Hampshire – NH  Wyoming – WY
Idaho – ID                   New Jersey – NJ
Illinois – IL                  North Carolina – NC
Indiana – IN                Ohio – OH
How do immigration psychologists and immigration attorneys work together?
A psychological evaluation is done at the recommendation of the immigration attorney.
Immigration psychologists and Immigration Attorneys have a working relationship that must protect the independence of opinion and the objectivity of each professional.  Immigration psychologists must understand rules of admissibility to determine whether the testing and procedures used are valid and reliable enough to stand the scrutiny of the court and other experts.  Immigration psychologists must understand how to provide testimony as required by the case.
Contact us at:
Info@ImmigrationPsychology.com
877-297-5952
305-456-4147
407-690-7129